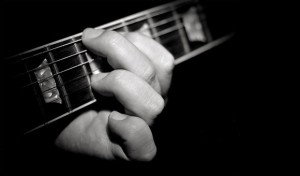 The Beginner Guitar curriculum is designed to be both comprehensive and flexible to my student's interests. I strive to make the lessons as informative as possible while also low-pressure and fun!
We'll utilize a variety of well-known Rock, Pop and Folk songs that demonstrate the fundamental techniques you need to know to learn to play guitar. In addition, we will customize your lessons to your interests – since many songs have the same elements in them (chords, strumming, etc), you will learn the music that motivates you!
In beginner guitar lessons, you will get guided expert instruction in the fundamentals of playing the guitar, including:
Playing open chords, Bar chords, Power Chords
Strumming techniques and Patterns
Reading music or Tablature
Picking technique and basic riffs/solos
Basic fingerpicking
This method is both informative and fun, since you get to play the music you love. As students progress beyond the beginner stage, the lessons become more focused on each students' interests.
Questions about my teaching style? Feel free to ask me anything!