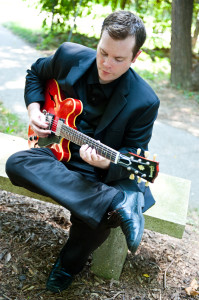 I'm a musician and teacher based in Central Illinois with the unique position of being both a classically-trained guitarist and an electric guitarist – I enjoy performing a variety of styles of music but my main focus as a performer is as a Jazz and Classical guitarist.
I've earned a Bachelor's Degree in Music from Bradley University and a Master's Degree in Music from Illinois State University studying Classical guitar. Currently I am finishing coursework toward a Doctorate of Music at the University of Illinois.
Since 2004, I've taught hundreds of guitar students – beginner, intermediate and advanced. I've also taught music classes at Heartland Community College, Lincoln College, & Lincoln Christian University. Click here for a more detailed list of my qualifications and experience.